A Fresh Approach to Work Workouts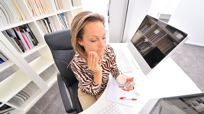 Look. It's fall. Why not change up your workout plans? We're going into hibernation season soon, so a midday workout could prove to be your new best friend. You'll get more energy, and when the sun starts setting at 4:30, you can just head home when the day is done, certain that you've done something good for yourself.

Not wanting to go back to the office all sweaty and gross is no excuse for not working out during your lunch hour. At least, not when you have these freshen-up-fast tips from Fitness Magazine:

For the Ladies:
Apply primer under foundation to create a sweat-proof barrier for light exercise.
Use a cleansing cloth to remove mascara smudges, then curl lashes to give what's left a second chance.
Before heavier workouts, remove makeup with a cleansing cloth, then touch up later with compact powder, lip gloss and shadow.

For Ladies and Gents:
Use the cool setting of a blow dryer to tone down red cheeks.
Blow dry hair, especially at the neck and hairline (read: hotbeds of sweat), for 3-5 minutes. When almost dry, add a drop of styling product, then blast with heat as you smooth hair into shape.
Don't forget the deodorant! Just go easy on your perfumes--the whole world doesn't need to know you just hit the gym.
Posted: 10/21/08