Work to Live, or Live to Work?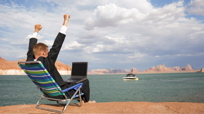 If you just finished all your holiday shopping because you won't have another day off until next summer, here's a newsflash: Your work-life balance is a bit out of whack.

We know, work is what paid for those gifts. And yes, they could find someone to replace you if you don't keep sucking it up and working those extra hours. But if you don't find some balance, pretty soon that stress is going to catch up with you and your whole self will be quite out of whack.

The holidays are just around the corner. If you're feeling swamped with what's on your plate for the upcoming months, let your boss know. He or she may not even realize how you're feeling. Discuss the importance of a work-life balance and ask for help meeting your shared goals more efficiently. The two of you might even come up with a prioritized list of responsibilities.

Maintaining a work/life balance is key to being happier. What are some of your tips for keeping in balance?
Posted: 10/20/08