Up and At 'Em!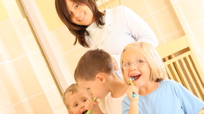 Have you seen my fiddlewaddle? Jimmy can't find his bumberkrumper. Mom, the hair dryer just blew a fuse again…

We think we'll have plenty of time in the morning, but reality begs to differ. Blame it on morning cobwebs or not enough coffee, the fact is, it's hard to move fast in the morning.

To avoid starting your day in a total panic, cut down your morning routine. Lay out clothes, pack lunches and organize bags the night before—for you and your kids. Whatever you do, don't leave work, permission forms and other tasks for the morning. Try as you might, you'll rarely be ready early.

If you don't have children (or a spouse) to get ready, adding to your morning routine might make it more relaxing and healthier all around. Yoga, a jog or some other exercise does wonders for clearing the mind and increasing energy—mostly because it's done for the day.
Posted: 9/27/08