When Elders Talk, People Listen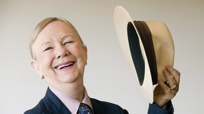 Anyone know what they call a person who lives to be 100? If you guessed a centenarian, bing, bing, bing—you win!

No prize, sorry. Just empty praise.

In a recent poll, 100 U.S. centenarians (some were 99) shared their top tips for healthy living and aging well:

1. Stay close to family and friends.
2. Keep your mind active.
3. Laugh and have a sense of humor.
4. Stay in touch with your spirituality.
5. Keep moving and exercising.

Great advice, but old news. (Punny.) We all know these things but run into problems somewhere between knowing and doing. This week, bridge that gap and do something from each category. For example, write to an old friend, learn a new word, tell a great joke, meditate and walk for 30 minutes. If you can't swing five, try for three.

Keep it up long enough and—who knows?—maybe you'll reach centenarian status.
Posted: 9/26/08