Mow, Mow, Mow Your Lawn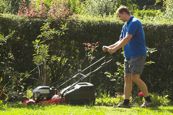 The grass is always greener in everyone else's yard. It could be your angle. Or perhaps the dog, the kids or the grubs. More likely, though, it's because your neighbors spend more time making it look that way.

Not that you're lazy or anything. You just aren't aware of a very important fact, one that makes the often torturous chore of maintaining a lawn worthwhile: Your yard is worth something. If you plan on selling your home at any time in the future, maintaining or improving your yard is actually an investment. According to the Gallup Organization, a well-landscaped yard can add 7% to 15% to your property value. Trees add value, too. The Council of Tree and Landscape Appraisers says mature trees are often appraised at $1,000 to $10,000 each. That's a nice chunk of change!

The same goes for townhomes, brownstones and condos. Even if your green space is a little smaller, you can make it the most beautiful on the block! So what are you waiting for? Mow! Prune! Fertilize! All that hard work will pay off someday. Plus, the neighbors will like it—and you'll love the way a well-kept space makes you feel more at home and at one with nature.
(P.S.—Apartment dwellers, you can "add value" to your rental by bringing some plants into your space to make the air cleaner and your rooms brighter! You obviously won't reap financial rewards, but you'll get the same good feelings and make your house feel a bit more like a home.)
Posted: 8/14/08