Brusha Brusha Brusha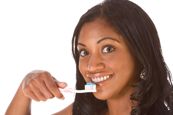 Ask anyone why it's important to brush your teeth and you'll get the same answer: To keep your teeth clean so you don't get cavities (or worse, bad breath). Those things are important, but there are other reasons you want to keep your mouth healthy.
Research has shown that good tooth and gum health is directly related to good heart health. It is thought that those with lower levels of bacteria in the mouth will have lower levels of atherosclerosis, the arterial disease that leads to heart attacks and strokes. It's also been found that women who have poor tooth and gum health might be putting their pregnancies at risk: There is increasing evidence of an association between maternal gum disease and low-birth weight babies.

So, what can you do? Everyone can benefit from better oral health. Brush twice a day, everyday, gently and thoroughly. And, if you're like us, you need to be more diligent about flossing. Try doing it at the end of each day, right before bed. Keep the floss out and visible on the bathroom counter or by the bed if it helps remind you to do it. Though it might feel like a nuisance, spending an extra two minutes on your teeth every evening will help you stay healthier longer. It's a small change that can add up to big results.
Posted: 8/13/08