Virtual Checking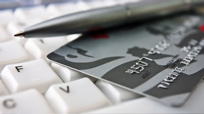 Now, if I subtract 5 and carry the 3…ahhh, that's right. Wait, nope, that still doesn't match my balance at the ATM. If you're suffering from the occasional overdraft fee that's a big burden when you're trying to reduce debt, join the club. It's hard to keep track of every penny that comes out of your account.

Thanks to the internet, you can have the work done for you—for free—and the results are instantaneously compiled for your viewing pleasure at any time you have web access.

No need to pinch yourself—it's true! Sites like Mint.com, Mvelopes.com, or Clearcheckbook.com manage your spending automatically after you enter information for checking, savings and credit card accounts. Now sit back and relax. Each time you make a transaction, the site will keep track of it 24/7. This technology will keep you current so you can avoid missing payments and overdraft fees, unlike programs or sites in the past that only posted at the end of the month.

And if you're worried about giving out your personal information via the web, these sites boast extreme dedication to security and preventing hackers from accessing your funds. If you're not convinced, try calling the customer service line to get more specifics on how they will protect you.

So next time you are at the mall and wonder if you have enough money for those super-cool shoes…you can whip out your phone and make sure you're not about to break the bank!
Posted: 7/28/08