Soak Up The Sun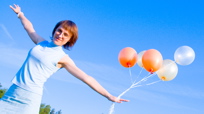 Sitting at the kitchen table, you finish your breakfast and as you put away the dishes, the gleaming sunshine catches your attention. Gosh, it's beautiful out! Wish I didn't have to go to work/do those errands/clean the house...

Well, why do you? When you're done reading this email, shut down the computer and take advantage of the gorgeous weather—it's calling your name. A little hooky never hurt anyone, and as long as you're not on a huge deadline or taking care of a large group of small children who can't be left unattended, work can SO wait till tomorrow.

Who should you share this perfect day with? There's probably someone who could use your undivided attention, so give 'em a call and have them meet you for a day of pure fun!

Quality one-on-one time will strengthen your relationship, so take a drive, grab some iced coffee, walk through the park or hit a museum. Try to pick something you've "always meant to do" together and make sure you keep the conversation as footloose and free as your day. Leave the heavy topics for another time...this is just about enjoying one another and your surroundings in the moment! Take lots of pictures to remember this stress-free, fun time in the paradise that exists just a few hours away from home.

One other rule: Don't go home until the sun has set.
Posted: 7/27/08