Keep Your Money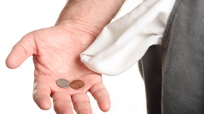 Bills, bills and more bills. Life gets more expensive and there never seems to be enough money for all you need and want. If only you had just a little bit more…

Before you take on a more demanding job with longer hours (and the stress that goes with it), look for creative ways to curb your spending. Over time, small changes add up big!

While the weather is good, ditch your gym membership and go for a run or lift weights outside or in the living room. Cancel your yoga class and rent a yoga video. Any time you can stay home instead of driving, you're saving on gas. When you do go out, don't offer to start a tab at the bar with your credit card. It's easier to keep track of spending with cash—bonus points if you leave the card at home and bring the minimum amount of cash you'll need for the evening with you! Also, look for BYOB dining. That great bottle of Merlot costs a lot less at a liquor store than at the restaurant.

Remember that your worth isn't in your wallet! These frugal living tips can help you learn to do with less. Not only will you appreciate what you do have all the more, you'll be happier knowing you can live within your means!
Posted: 7/26/08