News
The latest news on this change — carefully culled from the world wide web by our change agents. They do the surfing, so you don't have to!
Can the Housing Crisis Turn Around?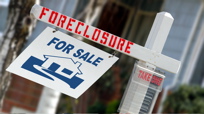 With the help of the FDIC, IndyMac has been working on a program to help those facing foreclosure keep their homes. This new program is working to keep monthly mortgage payments at 38% of a borrower's debt-to-income ratio, meaning they don't want the payment to exceed 38% of the borrower's total monthly debt. Prior to the bust, most of these people facing foreclosure had their mortgages at well over 50% of their monthly debt. No wonder they had trouble keeping up!

IndyMac is achieving this one of several ways: by lowering the interest rate, extending the life of the loan, deferring some principal to the final years of the loan, or some combination of the three. They've even been overnighting the forms to distressed homeowners so that it doesn't get lost in the jumble of junk mail. They simply open it, sign the forms, and return them with their first lower payment of the agreement.

Bank of America has also instituted a similar program. They'll be basing their payments on a 34% debt-to-income ratio and may be forgiving a portion of the debt. However, this seems to apply only to those who were initially held with Countrywide as Bank of America has settled with the state attorney general offices that sued Countrywide for predatory lending practices.

There is some opposition to having a streamlined program to help homeowners. The concern is that some people will get help that don't necessarily deserve it, and others feel lenders will balk at the idea of losing any money. However, senior council for government affairs at the Center for Responsible Lending says that the housing crisis is too big to worry about helping those who don't deserve aid. This program is the best idea out there to stop the bleed of the subprime lending fiasco, so it's worth a look.

What do you think? Could a systematic program among lenders help restore a little balance to the housing sector? Should the program include forgiving debt?
Posted: 10/27/08