News
The latest news on this change — carefully culled from the world wide web by our change agents. They do the surfing, so you don't have to!
Our House is a Very Fine House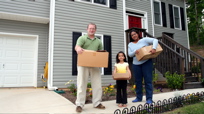 You must be thinking we're crazy. Buy a house in this economy? It seems counterintuitive, sure...but realty pros are saying there's never been a better time than right now to buy.

They cite low prices and shrinking inventory as two main reasons for a favorable buying climate. But the National Association of Realtors says more can be done, and it's the government who needs to make it happen. To encourage more buyers into the housing market, NAR has proposed that the government buy-down mortgage interest rates to ensure fixed low rates for home buyers. NAR also presented a four-point plan to Congress last month recommending, in part, that the repayment feature be removed from the first-time home buyer tax credit, that the tax credit be extended to all buyers, and that higher FHA and conventional loan limits be made permanent—up to $729,000 in high-cost areas—to give buyers in these areas access to safer, more affordable mortgages.
Do you agree with the assesment that you should buy now, or are you still waiting? [WSJ]
Posted: 11/10/08