News
The latest news on this change — carefully culled from the world wide web by our change agents. They do the surfing, so you don't have to!
Breaking Away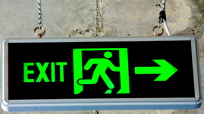 Jerry Seinfeld just might be the smartest man ever on television. Why? The comedian was able to take his hit show off the air with his dignity still in tact by calling it quits while the show was still a favorite among fans. He knew the show couldn't go on forever, so he said goodbye before anything ridiculous happened.

So, what does this have to do with your relationship? If you know that the end is imminent, its best to break up and get out gracefully before you have to resort to cheesy clips shows and silly character changes. Several historic figures made the mistake of sticking around just a little too long. Napoleon chose to keep marching right into Russia in the middle of winter and ended up retreating and losing 20,000 soldiers, and Willie Mays insisted on staying on the New York Mets until baseball writers referred to his playing as "cruel to watch."

When did you know it was time for you to make a graceful exit?
Posted: 6/3/08