News
The latest news on this change — carefully culled from the world wide web by our change agents. They do the surfing, so you don't have to!
What Are You Reading?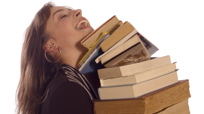 There is something about reading a good book that is truly calming. You get caught up in the story or the subject matter and your mind is so focused that it doesn't wander onto all those stressful tasks and responsibilities of everyday life. It relaxes us and makes us happy to be taking time out for ourselves.

That's why we were so surprised that one in four Americans didn't read a single book last year. There are just so many wonderful novels, memoirs and enlightening books out there; we couldn't believe it (plus Barnes and Noble is so popular, it just didn't seem to make sense).

What books are you reading or have recently read? Tell us what is on your to-read list and let us know what about the book intrigued you. Is it inspirational, just a really great story, heart wrenching? Give your review! And don't forget to check out what our readers recommended for books about spiritual living.

Here at First30Days, we are currently turning the pages of:

What's on your end-of-summer reading list?
Posted: 8/6/08