Ariane's Blog
A place to explore, embrace & make change happen
Tuesday, September 9, 2008
Pulitzer Prize-Winning Change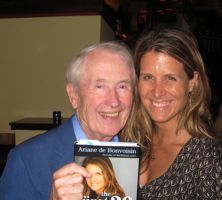 Last night I was at a book party here in NewYork for Kerry Kennedy's new book, Being Catholic Now: Prominent Americans Talk About Change in the Church and the Quest for Meaning.

She interviewed dozens of high profile people and asked them some tough questions about their faith, why they had either continued in their spiritual journey or returned to the Catholic church. During her speech, she spoke of how many Catholics had undergone some sort of change in how they viewed the Catholic faith and had interpreted some of the teachings in their own way. As many of us are well aware, Kennedy's family is devoutly Catholic and has relied on their faith in times of great loss—and while she has questioned the faith, she also shares her own views in the book about why she is still a Catholic.

While I was there, I was fortunate enough to spend some time with Frank McCourt, Pulitzer Prize winner (1997) and winner of the National Book Critics Circle Award (1996) for his memoir Angela's Ashes. What a wonderful gentleman who must be close to 80 years old now (and his wife is delightful as well). Talk about someone who has been through extraordinary change in his life. His book is based on his difficult childhood conditions, his family and his eventual arrival in the United States. His interview in Kennedy's book reveals much of how change and religion intertwine.

McCourt is an amazing combination of all the changes he has faced and has survived and he remains what I call a change optimist—he's another role model for us here at First30Days.