Ariane's Blog
A place to explore, embrace & make change happen
Tuesday, July 29, 2008
Signs of Change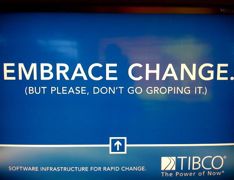 I've just returned from a wedding in London. It was actually a Scottish wedding with men in kilts (which is just so hot.) Then it was off to France for some quality time with Mum…

So just when I think I am free at the airport to dive into a great book, write in my journal and get some rest on the way home, I look up and yes—there is a GIANT sign for me—a sign of change, of course! I've attached the photo here because I just had to laugh aloud at this one.

Here is what's funny about it. My team and I have been taking photos during our travels to meetings, to interviews and on book tour of what we now affectionately refer to as Signs of Change. These are images on sidewalks, walls, billboards, people and clothing that remind us of our mission and our commitment to you. They are, more important, signs to me that we are all moving in the right direction together. People, brands and big companies alike are shifting and changing, and we are all part of the solution to the world's issues.

Each week, I'll post a sign of change here. If you see one on your travels or around your hometown, send it to signsofchange[at]first30days.com and tell us where you saw it, and how it affected you. I want to honor thousands of Signs of Change, the things in your local community, in your company, in your favorite store or anywhere and everywhere you see it. We will capture them all here and showcase at least one weekly. Believe me, some are very funny, we've already collected dozens for you, so check back in and see what all of us are finding. You may just see your photo and story here next!