News
The latest news on this change — carefully culled from the world wide web by our change agents. They do the surfing, so you don't have to!
When Fear Takes Over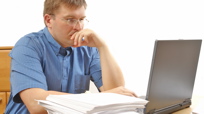 So you have your business cards, and all your paperwork has been filed. You may even have an office (or at least a dedicated space at home to work from). Congratulations! You're the owner of a small business!

Now what?

If you're sitting and twiddling your thumbs, unable to make decisions on how to move forward, you're not alone. After all, an idea on paper is easy. An idea come to life has much higher stakes. Still, you've come this far, so why not find ways to push through a bit farther? Here are some tips from Dr. Karen J. Keller, a syndicated columnist, master certified coach and clinical pyschologist specializing in workplace issues.
Make an action plan. Keller says having a one-page plan that identifies what your goals are and how you'll accomplish them is crucial. Start with just a few.

Describe your goals. Articulate what you want! Write down what you're working toward and why, so that you create a vision for your new business.

Know your resources. What do you need to remove obstacles? If you're struggling with fear and doubt, find the people who will stick by you no matter what. Where do you find strength?

Take action. You've got it all written out—now do it! Get past your indecision by scheduling each day the activities that will get you toward your goals.

What do you think of Keller's advice? Let us know if you agree, and whether you have any good tips for moving forward when starting a business! [FW Business News]
Posted: 8/15/08