News
The latest news on this change — carefully culled from the world wide web by our change agents. They do the surfing, so you don't have to!
Getting Money for Your Business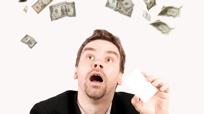 There are lots of great reasons to start your own business now. Maybe you're ready to turn your passion into your profession, or you've always wanted to be an entrepreneur. In addition, changes in the marketplace—even negative ones—create new types of opportunities that creative businesspeople can seize.
There's just one small problem: The credit crunch is making it harder than ever for entrepreneurs to get funding, especially if they're just starting out. Women may also face extra hurdles that men don't, according to Suzanne Muusers, principal/business coach at Prosperity Coaching of Scottsdale, Ariz. "Women don't have the role models that men have had in their lives. Many are totally inexperienced at asking for money, so they may feel awkward and lack confidence."
Two things are key to mitigating these challenges—being prepared and knowing where to look for moola. Below are some places to start your search, from Nicole Williams:
Your bank. Muusers currently sees successfully female entrepreneurs creating relationships with smaller banks. "Once they have established a year or two of deposit history, they are approaching the banker for an expansion loan. The key here is to work the relationship and be visible so that when the time comes, the banker will be more amenable to the proposal."
Friends and family. Borrowing from people you know has many advantages—they're more approachable than a bank, they may be willing to lend to you even if you don't have a strong credit history, and the terms of the loan may be better. However, it is important to formalize those terms to protect your relationship. Virgin Money, which recently took over CircleLending, is one place to obtain tools for structuring your loan. (Richard Branson of Virgin-mega-success fame launched his empire with a loan from his aunt!)
The Small Business Administration (SBA). The SBA is not a lending institution itself. But local branches typically maintain relationships with the banking community and can help point you toward potentially amenable lenders. SCORE is a nonprofit organization that partners with the SBA to offer entrepreneurs tools, training, and additional resources.
Angel funding. Angel investors are affluent individuals, or sometimes small groups, who are willing to invest their personal resources in a start-up. Most will do this only in exchange for a chunk of your company's equity, and many also charge a monthly "management" fee. Finding angel investors can take some detective work, but one good online resource is government-affiliated Active Capital.
Peer-to-peer lending. For small loan amounts, try Zopa.com. They'll match individuals searching for a loan of any purpose with others looking to make an investment. Facebook's LendingClub is also worth exploring.
Your existing lines of credit. Taking an advance on credit cards still remains a popular source of funding for entrepreneurs because it's so easy. However, borrowers should exercise caution here—you'll be paying high interest rates, plus your personal credit rating could be endangered if your business hits a rough patch. And in a weak economy, maintaining a strong credit rating is vital for securing future funds.
As for being prepared, looking and acting like a real business before you approach potential lenders is often critical. If at all possible, you should obtain a business phone number, address, and applicable licenses in advance. Muusers also suggests that would-be entrepreneurs invest some time in finance and business management courses (such as those offered through SCORE) to prepare for the credit marketplace. "Be the expert at what you do," she says. "Success will follow." -Helen Young
Posted: 1/7/09