News
The latest news on this change — carefully culled from the world wide web by our change agents. They do the surfing, so you don't have to!
Go Mediterranean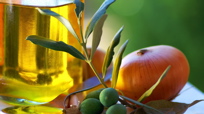 Even if you are not on a diet, most of us could afford to eat a little better, but it's not always easy to figure out how to actually go about living healthier! Do you find yourself using the same recipes over and over? Are some of them not the most nutritious but get the job done?

The New York Times has a companion recipe to its recent Mediterranean "diet" article we wrote about here, and although the ingredients may not currently be found in your kitchen, it doesn't require many if that turns out to be the case.

Swiss Chard (or Spinach) With Currants and Pine Nuts

INGREDIENTS:
3 tablespoons currants or raisins
2 pounds Swiss chard, stemmed and washed in several changes of water, stems diced and set aside
2 tablespoons olive oil
1 to 2 garlic cloves (to taste), minced
3 tablespoons pine nuts
Salt and freshly ground pepper

1. Put raisins in a bowl and add enough hot water just to cover. Let soak for about 10 minutes and then drain.

2. Place some ice water in a large bowl and then boil a large pot of salted water. Add the chard or spinach (without the stems) and cook for 1 to 2 minutes, until it wilts a bit and is tender. Immediately place in the bowl of ice water and let sit for a few minutes. Drain the water and try to squeeze out as much water as possible. Chop chard coarsely.

3. In a large skillet, heat the olive oil over medium heat. Cook just the chard stems in the oil for about 3 to 5 minutes. Add in the pine nuts and cook until they begin to color (2 to 3 minutes). Add the garlic and cook for another minute. Add the greens (from Step 2) and currants and toss together, cooking for 2 to 3 minutes. Season to taste with salt and pepper if you prefer and serve warm.

Let us know if you make it and what you think!
Posted: 10/10/08