News
The latest news on this change — carefully culled from the world wide web by our change agents. They do the surfing, so you don't have to!
Sex Tips from the Animal Kingdom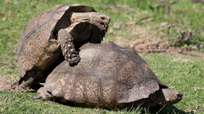 Have you ever noticed that when medical studies are purporting the health benefits of sex, the studies usually involve mice instead of people? That's because scientists say mice are actually very similar to humans. But what would our sex advice columns look like if we followed animal recommendations for sex? Maybe a little like this:

Being Married Is Good for Men's Health
Male mice that were in monogamous relationships had lower blood sugar and insulin levels, making their risk for diabetes lower than their partner-hopping buddies.

Bigger (and Sharper) Is Not Always Better
In the animal kingdom, many males practically have weapons for penises that induce pain in females when mating. So it's no surprise that the guys with the least painful members get the most girls and create the most offspring. All you "average" men out there, rejoice!

For True Bliss, Join an Orgy
When rats mated in groups, switching partners often, they were able to better control their rate and duration, leading to a more pleasurable state of mind that lasts longer than the orgy.

Who Knew a Space Could Tell so Much?
Prairie voles are a highly monogamous species, so how do they pair off? The females look for the guys who have the greatest distance between their genitalia and their rear ends. The guys with the greatest distance in that area also had bigger testicles, which would theoretically imply they have more sperm.

Something tells us, guys might not like it if girls were to whip out the measuring tape on this one as a means of improving their sex life.

What other funny or bizarre animal studies on sex have you read or heard?
Posted: 11/14/08