News
The latest news on this change — carefully culled from the world wide web by our change agents. They do the surfing, so you don't have to!
Old Enough to Know Better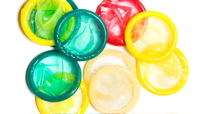 Tsk. Tsk. Tsk. Your teenage sons and daughters would be ashamed of you.

It seems that 30- and 40-year-olds think they're too good for condoms and other safe sex methods these days. In a recent survey from the United Kingdom, only 38% of men and 29% of women ages 35 to 44 used protection for sex the first time with a new partner. In comparison, 68% of teens reported using condoms the first time they had sex with someone new.

The lack of protection among adults is contributing to an upsurge in sexually transmitted diseases and infections in that age group. And a fresh outbreak of herpes is no way to improve your sex life. In response, researchers are now urging a new educational campaign on the importance of safe sex practices among all age groups.

What is going on here? How or when did anyone get the message that it was OK to have unprotected sex when you're not in a monogamous relationship?
Posted: 11/20/08