News
The latest news on this change — carefully culled from the world wide web by our change agents. They do the surfing, so you don't have to!
Standing Traditions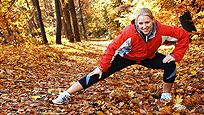 In our family, there is a little something called the "guilt couch," where post-Thanksgiving dinner eaters go to rest and digest after we inevitably eat too much. It's a funny tradition, but what if there were a new tradition that fell less along the lines of, well, falling onto the couch?

Yeah, holidays do not pair well with getting in shape, but Amanda MacMillan of Health.com has decided to change all that this year.

After you catch up on sleep (which you deserve!), it's time to get moving. MacMillan suggests bringing work-out clothes if you are traveling elsewhere and if any of your traveling involves waiting around in airports or at train depots, walk around and get some exercise that way. Weather permitting, go for a walk wherever you're spending Thanksgiving and explore your surroundings, especially if you haven't been there in a while.

Luckily, another tradition our family has is the annual Thanksgiving hike. Talk about getting in shape! For 2-3 hours before dinner, we hike through the woods and really earn that feast being cooked up by the non-hike participants. Do you have any traditions in the same vein? If not, can you think of something fitness-related that may be fun to try this holiday weekend?

Posted: 11/28/08