News
The latest news on this change — carefully culled from the world wide web by our change agents. They do the surfing, so you don't have to!
Congratu-freaking-lations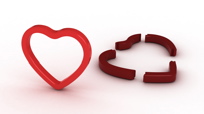 Imagine you've recently signed divorce papers, you've had a hard day at work and open your mailbox to find what looks like a party invite.

"Oh," you think. "How sweet!" But then you open it up and it says, "Come help us celebrate our 25 blissful years of marriage." You'd probably want to look for your nearest punching bag.

That's exactly the type of scenario Alice Mills and her husband Dan Black were trying to avoid when planning their silver wedding anniversary party. The couple says that many of their potential invitees had recently divorced.

"I was wondering if people might feel bad after going through a divorce. I mean, here we were having this big celebration of longevity," Mills tells The Globe and Mail.

In order to keep the whole "we're still married and you're not" sentiment out of their anniversary party, Mills and her husband opted for a subtle "celebration of love" theme and opted to hold off their vows renewal for a later date with a smaller venue.

Would you be hesitant to attend the celebration of a long-lasting marriage after yours has fallen apart? Do you think your friends are obligated to keep your feelings in mind?
Posted: 9/26/08