Take the Clutter Test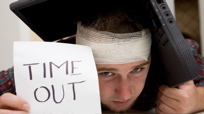 If you find yourself buried in clutter, remember this: Letting go of an item does not devalue the memory of it. You'll always have the memories, even without the material items.

Sorting through belongings that remind us of special events, our childhood or other memories can bring up powerful emotions. "Many have fear and guilt," says organizing expert, Meryl Starr. "There's a lot of, 'I can't do this. It's too difficult.'" But you need to ask yourself, do I really love that item, or am I only keeping it because I think I should?

Passing treasures on to friends or family members can make them easier to part with. Many people take photos of sentimental items and keep them in a special album, where they take up a lot less space.

When in doubt, put the item through Starr's clutter test: "If something feels good when it's in your presence, it's not clutter. If it doesn't…get rid of it."

To receive 30 FREE daily tips on Getting Organized, click here and then click the Yes button.
Posted: 5/15/10