Fearless Living: My Change Nation Interview With Rhonda Britten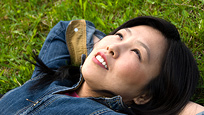 If you want to free yourself from fear and finally reach your full potential, start keeping acknowledgments. "Each time you do [something] and acknowledge yourself for it, what you're really doing is building your self-confidence," suggests life coach, Rhonda Britten, author of Fearless Living. This self-confidence "will give you the courage to take more action."

To keep acknowledgments, simply write down, Today I acknowledge myself for _____, filling in the blank with any of the following:

a stretch = something you know you could do but just haven't
a risk = something you both do and don't want to do—you're nervous about it
a die = there is no way I'm doing that!

Ideally, do five a day and be sure to give yourself full credit, meaning you can't tack on something like, but it was no big deal.

Using acknowledgments automatically stops you from beating yourself up, says Britten, leaving you with the knowledge that you are good enough. "Think of the energy that the world will have if we all quit beating ourselves up," she speculates.

Listen to my entire Change Nation interview with Rhonda Britten.
Posted: 5/21/10