Personal Invitation from Ariane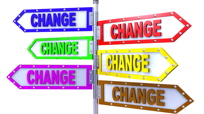 Dear Friends,

I'd like to invite you to come join me at a wonderful event I'll be doing in upstate, New York, this coming September.

I'll be teaching a course called, "Facing any Change with Optimism" at the Kripalu Center, September 10-12. The course will focus on helping you with that change you've always wanted to make. Maybe it's leaving a job and pursuing a dream, leaving a relationship you know is over, finally losing the weight, moving, going back to school or assisting you in navigating a change that has come your way, a health diagnosis, the loss of a loved one, a job change. Whatever the change, you will leave this workshop with a very different view of this change, yourself, and how to successfully take action. There will be teaching, practical exercises and lots of time for Q&A.

We will cover

• The nine principles of change
• The beliefs of a "change optimist"
• How to find your "change muscle"
• Ways to recognize and overcome your "change demons," those negative emotions that
hold you back
• How to create your change-support team
• Your spiritual essence and how you can walk the spiritual path as you go through life
changes.

You will leave the workshop with a sense of peace, hope, clarity and strength. The wisdom and skills you acquire this weekend will accompany you for the rest of your life.
Kripalu is a beautiful place to rethink aspects of our life. It is a sanctuary only a few hours from New York city, has great food, yoga, a spa and a special energy.

For more information, click here.

There are ways to make this work for any budget.
I hope to see you there.
Ariane
Posted: 5/20/10