One Person Who Can Change the World!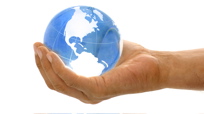 I wanted to write this email and specifically ask for your help.
I've been on this mission for a few years now to create a change movement, a group of people who want to make some changes in their lives, want to be happier, want to get healthier, make some money, live more spiritual and balanced lives. And ultimately, have this group of people take that out into the world, become agents of change, change optimists on a planet that so desperately needs that. We are now close to 500,000 who get the Ariane Change Secret every day! We are read in over 20 countries! Can you believe it? I'm amazed and blessed.

I have a goal to reach one million people by the end of 2009. One million people who are committed to have the courage to make some changes in their lives and to face whatever life might have thrown their way. One million people who are raising their consciousness, being an inspiration for others, taking even just one small step.

Here is where I need you. Think of just three people who could benefit from receiving a little dose of optimism, of information, of inspiration. It might be your parents, a colleague, your partner, kids, lover...anyone really. Someone who maybe just needs a boost, is searching, or someone who is struggling.

If each of you signs up one person today, sends them to our site, or forwards them a tip, writes something on Twitter or Facebook, we could already be at a million. Imagine that. One million people who can spread an idea, a great book, a must-see movie, an expert everyone needs to know about...a secret.

So take a minute now. Send this to a few people you know. They will thank you. We are already a powerful force in the world. The press talk about us on a weekly basis. (If you haven't seen our press page recently, take a look. I am humbled!) Let's give them something really to talk about now! I'm also committed to give away 1,000 books to some great causes to celebrate this milestone.
Posted: 7/6/09