QTIP: Quit Taking It Personally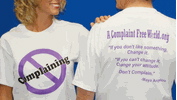 The word QTIP conjures up images of the infamous cotton swabs, but it also makes the perfect acronym: Quit Taking It Personally. Christine Comaford-Lynch uses this term in her "business" book, Rules for Renegades, but it's also appropriate for everyday life.

We're so quick to take things on a deeply personal level. We assume that upsetting words and actions are directed at us, or that the offender acted despite our feelings. These assumptions then negatively affect how we feel about ourselves and also how we interact with others.

The next time you feel offended, ask yourself, "Am I taking this too personally? Is it possible that this has nothing to do with me?" In other words, quit taking things personally. Assume the best in others, and start yourself on the path to a happier life.

Read more of my blog posts here.
Posted: 5/5/09