Attracting the Love of Your Life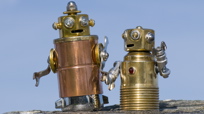 If the voice in your head keeps telling you that you'll never find true love, don't listen. With the right approach, your dream can and will come true. "If what you're doing isn't working, change it," says Nancy Slotnick, CEO of Cablight.com, a web site that helps people with love-life management. "It can be scary, but it's also exciting because you'll get new results."

Even if your love life has been a challenge for you in the past, now is the time to make a positive change and attract and enjoy the love of your life.

Robin and Michael Mastro wrote a brand new, beautiful book called Making Room for Mr. Right (How to Attract the Love of Your Life) and today they are launching a special promotion that you benefit from but only if you act fast. Go here now and find out.
Posted: 5/6/09