Do the To Do Dump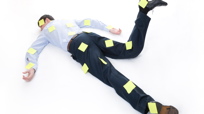 Shovel the driveway, pay the bills, fix the dishwasher, email Dad, buy new underwear, find a job, call the dentist….

If too many to-dos have you feeling totally overwhelmed, try a brain dump. Grab a piece of paper and write down every task on your mind—little chores, big projects, long-term goals—everything.

Look for items you can knock of in a matter of minutes, like sending emails, and do them now. Next, decide which items need to be done soon, like fixing the dishwasher—your marriage depends on it—and transfer them to a short-term To Do List. Hang it someplace visible, like on the fridge.

Rewrite the remaining, longer-term tasks or dreams, i.e., changing careers, redecorating, etc., in a separate notebook or some other handy location. Review and add to the list as needed.

There now, isn't your brain refreshingly clear? Putting your intentions on paper helps ensure that you'll actually do them.

Provided you remember to look at the list.
Posted: 3/24/09