The Big Breakfast Club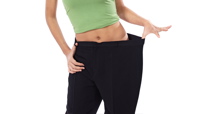 Wanna lose more weight and suffer less? Start eating huge breakfasts—high-carb, high-protein smorgasbords. Chow down on half of what you're supposed to eat over the course of the entire day.

While you're at it, throw in a piece of chocolate.

A study at the Hospital de Clinicas in Caracas, Venezuela found that obese women who consumed 1240 calories a day following this strategy lost, on average, 21.3% of their original body weight over an 8-month period. Another group on a low-carb, small breakfast regime lost only 4.5% of their weight while consuming only 1085 calories per day.

Nutritionists agree, eating a big meal first thing helps curb cravings for sweets and other carbs later on, since protein is digested slowly through out the day. And since serotonin levels are highest in the morning, consuming chocolate or candy early won't give you the same boost as it does the afternoon, when serotonin is lower. The idea is that by ending the positive association, you'll break the addictive cycle.

Which means for all you willing chocoholics out there, do not—we repeat, do not—eat chocolate in the morning. You'll ruin everything.
Posted: 3/23/09