Coffee, Tea or Peppermint?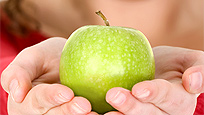 The next time you're in the market for a pack of gum, some candy or a car air freshener, think peppermint. This all-star scent does more than freshen your breath.

In studies run by Dr. Bryan Raudenbush, professor of psychology at Wheeling Jesuit University, the scent and flavor of peppermint increased motivation and attention, allowing participants to think more clearly and improve cognitive performance.

Goodbye, Ritalin—hello, peppermint lotion. Even better, an inhaler.

No joke. For better athletic performance, check out the Peak Performance Sports Inhaler. Supposedly, this peppermint-based enhancer increases energy, speed, reaction time and strength, among other things. And it's legal.

Road rage? You guessed it—peppermint. Study participants experienced increased, alertness, decreased fatigue and less frustration when exposed to peppermint scents while driving. Cinnamon had similar effects.

And yes, peppermint can even help you lose weight—albeit, indirectly. It keeps you alert, helping you to avoid a "slump that prompts you to seek out a snack." According to Raudenbush, adults exposed to peppermint regularly consumed 2,800 calories less per week.

Candy canes, anyone?
Posted: 3/25/09