Quit Smoking Once and for All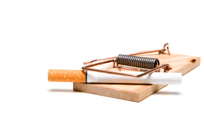 There's no doubt that quitting smoking is an extremely difficult undertaking, but with the proper attitude, therapies and support, it is possible. Dr. Cheryl Healton, President and CEO of the American Legacy Foundation, an organization aimed at reducing U.S. smoking rates, offers these tips to help you thrive during the first 30 days of quitting smoking.

Keep trying. The average former smoker makes eight attempts to quit before she succeeds. Examining the approaches used in previous unsuccessful attempts can identify helpful strategies as well as potential pitfalls.

Have a great plan in place. People who use more than one method—nicotine replacement patches/gum, Zyban or other new medications, etc.—are more likely to succeed. Try the simplest approaches first, adding more as necessary.

Don't underestimate the need for social support. Those who have support are 50% more likely to succeed. Surround yourself with people who offer endless encouragement and get counseling in the form of calling a quit line, attending one-on-one talk therapy or joining a support group.

Read more expert tips and advice on quitting smoking.
Posted: 12/5/09