Take the Change Quiz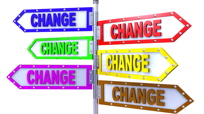 Are you good at change? Take a quiz and find out. I teamed up with Barnes and Noble to create an exclusive quiz that will tell you where you stand on the change scale. Your answers to 10 simple yet revealing questions will offer you some insight into how you navigate all types of change.

- What do you do when faced with a challenging change?
- How do you describe difficult changes to others?
- What do you do when you feel stuck during change?

Answer all 10 questions here.
Use the scoring key to add up all your points, then interpret your score on the final page. Whether you're a Change Novice, a Change Explorer, a Change Agent or a Change Optimist, understanding how you approach life's transitions can help you identify ways to make the changes in your life a little less stressful.
Posted: 12/6/09