Fit to Live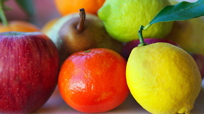 The key to succeeding beyond the first 30 days of living healthier is to write a contract with yourself for which you have to meet a measurable outcome. "Say, 'My goal this month is no less than half a pound of fat removed, and I'll contractually agree to that,'" suggests Discovery Health Channel's chief medical correspondent for nutrition and fitness, Pam Peeke, M.D., author of Fit to Live. "'My goal will be two pounds a week, but anything between half a pound and two pounds is fine with me.'"

Write it down, watch yourself and hold yourself accountable day by day. Include measurements, too. "Measure yourself across the belly button, lower pooch area and take your weight," says Peeke. Think like a financial planner saving money—how much do you have now and what's your long-term goal? Break it down to a minimum monthly goal, in inches or pounds, and add it to the contract.

Peeke continues the financial analogy. "Think of your exercise in terms of body dollars and continue to bank those body dollars," she advises. Use the contract to track your "savings" week by week.

To receive 30 FREE daily tips on Living Healthier, click here.
Posted: 12/21/09