Answers Come In Threes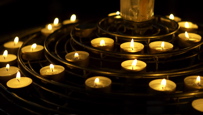 If you ask yourself important questions, remember to expect the answers to show up. That's the advice of spiritual-life coach and conscious-parenting expert, Teri Johnson, who says that many people forget this part of the self-inquiry process. "We all ask… what now? and how am I suppose to do this?" says Johnson, "but then we jump into doing what we think others expect of us instead of what feels right."

Answers aren't always easy to identify, so Johnson has come up with a formula for recognizing them in her own life. "My rule of thumb is if I ask a question, such as, where should I move?—if the same idea comes to me three times, then I need to move in that direction." For example, if she reads an article about Charlotte, NC, and then a friend mentions Charlotte and then she hears a song about it, she knows she needs to explore the idea.

"The answers come, but we tend to dismiss them as common everyday events," says Johnson. "Nothing in this world is common or ordinary or accidental or a coincidence."

Read more about Teri Johnson in our Profiles of Change gallery.
Posted: 12/22/09