Top 5 Tips on Saving for College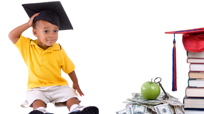 Not sure how you'll save enough to send even one child to college? Mark Kantrowitz, publisher of FinAid.org and EduPASS.org, two of the most popular sites dedicated to saving and paying for college, offers this advice:

1. Just get started. Don't try to figure out how much you need to save. Get started with whatever you can, and gradually increase that contribution.

2. Set your savings goal at one-third of your expected college costs. The sticker shock of the full amount will make you too depressed to get started.

3. If your expenses change significantly, increase your savings. When your child gets out of diapers, put that money into a college savings account. The same goes for childcare, inheritances and income-tax refunds.

4. Use a rebate program, like Upromise or Babymint. When you buy certain products, a slight rebate goes into your 529 savings plan.

5. Make saving automatic. Set up an automatic transfer from your checking or savings account into your 529 savings plan, so you won't have the opportunity to spend it.

DID YOU KNOW? A Fidelity Investments survey found that 42% of parents haven't saved a dime for their child's education.

Read more tips and advice on saving for college.
Posted: 12/14/09