Do Less, Sleep More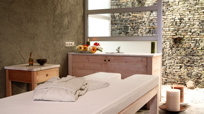 When it comes to improving your sleep, less is definitely more—less doing, that is. According to Tracy Kuo, Ph.D., staff psychologist and clinical researcher at Stanford Sleep Disorders Clinic, one of the biggest hindrances to sleep is the number of things people try to cram into their lives. "Americans place a lot of emphasis on activity, but the body is not made to be on that level of intense activity all the time," suggests Kuo. As a result, people find it difficult to reach the state of relaxation necessary for slumber.

If you aren't sleeping well, Kuo recommends examining your life to see if you're taking on more than you can handle. Are there things that you could give up? Also, be sure to bring a sense of closure to each day, so you can go to bed feeling calm and tranquil. "Write down any unfinished business," she advises, "with some notes about how you plan to finish the tasks." Or simply acknowledge that what wasn't done today can be done tomorrow.

Read more advice on improving your sleep from Dr. Tracy Kuo.
Posted: 12/13/09