Public Speaking in the Media Age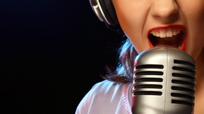 Getting over your fear of public speaking is not a matter of learning more tips and tricks, but of changing your mindset. "If we perceive our audience as our friends who have gathered to cheer us and admire us, and if we perceive ourselves as having valuable thoughts, feelings, ideas to share, our anxiety can't find room at the table," suggests Saskia Shakin, author of More Than Words Can Say: The Making of Inspired Speakers.

Shakin says to look at speaking as simply holding a conversation with the audience, as opposed to lecturing. Allow yourself to be so busy with your enthusiasm, having a good time and being real that you don't have time to worry about how you're being perceived. The rest will take care of itself. "Contrary to the advice you may hear from others, you are not on the podium primarily to engage the audience," Shakin reminds us. "The audience's pleasure is always a by-product of you engaging yourself."

Read Saskia Shakin's entire blog post on public speaking.
Posted: 12/12/09