Energize, Heal & Simplify Your Life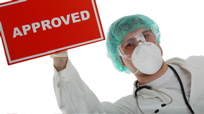 One of the most important things you can do following a health diagnosis is to decide that you deserve to live your life in a healthy, balanced and purposeful way. Life consultant, Julie Hryniewicz-Hache, author of Natural Balance: How to Energize, Heal & Simplify Your Life, suggests these action steps to help you get through those first 30 days:

Decide to heal. Don't get stuck in the role of victim, or you'll waste all of your energy wallowing in my pain.

Build a support system. Surround yourself with self-help books, web sites, inspirational quotes, others in your shoes, caring friends and family and so on.

Journal. Get your feelings out on paper to keep them from festering in your mind and body. Write down negative emotions as well as the things you're grateful for.

Boost your energy. Keep your energy stores replenished to fuel your body's natural inclination to heal. Get outside, move your body, eat extra fruits and vegetables, drink water, do what you enjoy, simplify your schedule and spend some time in silence and relaxation each day.

Read more expert tips and advice on dealing with a health diagnosis.
Posted: 12/7/09