Replacing Fear With Something Bigger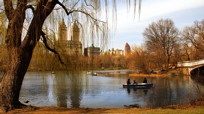 I'm often asked how to transcend fear—what I call the number one "change demon"—during times of transition. But as I mentioned in a recent GlamSpirit interview, the fear is always going to be there. It never really goes away.

Most people think, once I get rid of the fear, then I'll lose weight, get out of a bad relationship, find work that's more meaningful and so on. But that's an illusion. Instead, you need to learn to work with the fear. Find something that's bigger than your fear for the moment in time that you've got to make the leap. Is it your faith? Is it the reason behind your change? Whatever it is, replace your fear with these thoughts of faith and trust.

You may not be able to make fear disappear, but you can manage it. Rather than letting this change demon hold you back, welcome fear as just another part of the transition process. All our heroes, experts, celebrities, athletes, people we put up on higher pedestals than ourselves all feel the same fear. Don't let your mind feed you the illusion that others are special, different, have less fear or have it easier than you. Welcome fear. When you see and recognize it, when you notice it and just allow it to be, then it won't fight you anymore. It loses its grip on you.

Listen to my interview with GlamSpirit here.
Posted: 11/9/09