How Much of Your Job Is Really Necessary?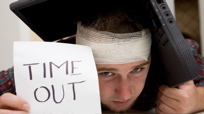 The ability of a company to thrive during times of transition depends on enhanced communication, and not just from the top. If you're feeling overwhelmed by an increased workload, get honest with yourself and your boss. Is everything you're doing really necessary?

Most likely, a certain amount of the work that you do is not really contributing to what your boss needs. For example, do you really need to spend three more hours on that business development PowerPoint?

You need to get honest and say to your boss, here's all the stuff on my plate. In many cases, your boss has no idea what you're working on and will be able to find some things that don't need to be prioritized right now.

Many people fear that opening up might reveal something negative about themselves or put them in an unfavorable position with their team. On the contrary, people who are honest and authentic are the ones that companies want to hold on to.

Listen to my entire Morning Meetings call with Lynn Cohen.
Posted: 11/8/09