Top Tips for Living More Spiritually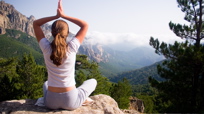 If you'd like to live more spiritually, but aren't sure how, start with the basics. Sharon Janis, author of Secrets of Spiritual Happiness, offers these simple ways to embark upon a spiritual journey:

1. Add pauses to your day. When you stop and center yourself, you reconnect with your spiritual essence. Watch your breath. First thing in the morning, pause and bless your own day. Before you eat, offer your meal to God, to grace or to healthy digestion.

2. Keep good company and read good spiritual words. Spend time with positive people as much as possible. Bathe your mind in positive spiritual ideas, even if you don't believe everything you read. Read a paragraph or two of a good, positive spiritual book before going to sleep. The energy of the words goes into your subconscious, which affects your dreams and your next day.

3. Approach life with an attitude of service. Volunteer or live life looking for what you can give to this world. You're here for a short time. Ask yourself what you can give.

Read more expert tips and advice on living spiritually here.
Posted: 11/29/09