Let Go and Let Gratitude In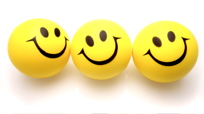 If you tend to have a hard time fully experiencing the meaning of Thanksgiving, remember that your mind is a master at creating obstacles to appreciation. On this day of thanks and throughout the year, allow an attitude of gratitude into your life by noticing and letting go of the feeling that…

… you are "missing out." Let go of the consistent nagging doubt that you should be doing something else, just in case that other thing is better. Be present now.

… you are "behind, late with something that hasn't happened yet." The energy we put into trying to speed things up is exhausting. See yourself with exactly what you want.

… "your life isn't working." Focus on the parts of your life that are working. Change to make your life work better, not because it's all wrong.

… you aren't "good enough." Give yourself and everyone around you permission to be human.

… someone else has more than you do. You are whole and complete without the power, money, love or happiness that someone else has. Remember, compare and despair.

Read my entire blog post on this topic.
Posted: 11/26/09