Sit Back, Relax and Allow the Life You Want to Come to You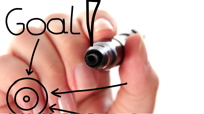 If you want to improve the quality of your life, don't think in terms of what you need to do. Rather, imagine what it is you want and then set an intention to allow it to be. "This perpetual sense of having to do is part of the problem," suggests Sarah Maria, author of Love Your Body, Love Your Life. "Simply allow [what you desire] to come into your experience by removing whatever is preventing it."

Ask yourself "what is my deepest longing? What does my heart and soul yearn to experience?" Is it more love? Better health? Set an intention to allow this into your life, trusting that it is already available. "In the process of allowing, gently discover what is preventing you from experiencing what you desire," Maria instructs.

According to Maria, the very best thing you can learn is how to simply be, and in that state of being, everything will take care of itself. "Accept unconditionally what life has sent your way, and trust completely that you can create what you desire," she advises. "Accept and intend. This is all you ever really need to know."

Read more about Sarah Maria in our Profiles of Change gallery.
Posted: 11/25/09