Visualize Your Good Health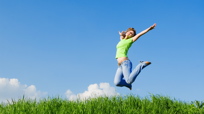 Your own inner intelligence can create miracles in healing. If you're dealing with a particular health diagnosis, energetic and psychological healing expert, Dr. Marie Haumont, offers these suggestions to increase the chances of turning your health around:

- Don't just put up with your treatment. Participate in it.

- Inundate yourself with positive images. The images we hold in our minds block us or liberate us.

- Have some goals and projects to give meaning to your future. Mobilize yourself.

- Visualize your body changing. It can change your unconscious mind and re-inform your genes and immune system. Try it for three weeks, five minutes a day, last thing at night and see the effects. Your body will believe anything you visualize as being real.

- Love yourself. Make peace with yourself. You deserve to be happy and healthy.

Read more advice on living healthier from Dr. Marie Haumont.
Posted: 11/24/09