Top Get-Fit Wisdom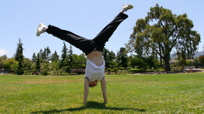 If your efforts to get in shape have failed repeatedly, take a step back and figure out why. Once you identify these obstacles for what they are—negative beliefs, not having a clear goal or a lack of time—they practically disappear on their own.

When we try, and fail, at something, we associate it with negative beliefs, like, "it's too hard." Use what I call your Change GPS and ask yourself, "Where am I now?" and "Where do I want to be?" Let go of everything else.

It's important to have a strong reason for wanting to succeed, beyond just wanting to lose 10 pounds. Maybe youd like to be able to practice sports with the kids or to run a mile. Create a new, motivating goal that has no association with past failures.

"No time" is the most common excuse for not getting into shape, but everyone has the same 24-hour day. Make exercise a priority. On a Post-it note, write down your top reason for not working out, as well as why it's important to do so. Display it someplace visible, like on the bathroom mirror, as a reminder to stop making excuses and start moving!

Read more expert advice on getting in shape here.
Posted: 11/2/09