3 Questions You Should Ask Yourself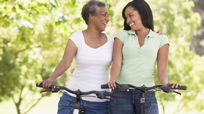 Wish you were a happier person? Then become one. According to best-selling author and change expert, M. J. Ryan, it's never too late to change your attitude. "I was very negative and pessimistic until I decided to change about 15 years ago," says Ryan. "I'm proof that a person can fundamentally transform her outlook and become happier."

Where to start? Ryan recommends to you the very simple happiness practice of asking yourself three basic questions at the end of each day:

1. What am I thankful for? (This activates gratitude, one of the strongest uppers and resiliency creators there is.)

2. What did I enjoy today? (This gets you paying attention to what you can savor in your life, another component to happiness.)

3. What do I feel satisfied about today? (This gets you out of the endless striving to do more and to do it better than before. It also focuses you on what you did well, so you can continue to do well.)

Read more about M. J. Ryan in our Profiles of Change gallery.
Posted: 11/12/09