I Can Only Imagine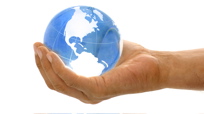 I am sure that many of you have seen this video before. I seem to find myself watching it once a month or so, and it brings tears to my eyes every time.

This morning, I asked myself why. Perhaps they are tears of witnessing pure love, or tears of gratitude for how blessed and lucky we are. Maybe they are tears of awe at the magnificence of the human spirit and how much we are capable of, tears of the love I haven't given or tears of the dormant potential that lies within all of us.

The connection between father and son here is simply beyond words. Watch the video here and let yourself be touched.
Posted: 11/11/09