Top Ways to Change Your Look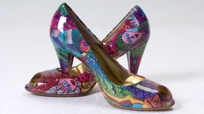 Does your look or wardrobe have a serious case of the blahs? Here are some tips to help you on your way to a brand new image:

1. Evaluate your style. Assess your current look objectively—wardrobe, hairstyle, makeup, and so on. Note what you feel good about and what you want to change.

2. Be a quick study. Browse through magazines, watch TLC's "What Not to Wear" and note what the people around you wear. Jot down ideas and inspiration in a "look book."

3. Clean out the clutter. Purge your closet to make room for your new duds. Make three piles—Keep, Donate (or toss), and Needs Mending (or tailoring).

4. Start small. If you aren't sure where to start, accessories such as a chunky necklace, a handsome watch, new shoes or a trendy bag can instantly update outfits. A new haircut can be completely transforming.

5. Accentuate the positives. Make a list of your positive traits and let your style change reflect the real you. If you're brave, go bolder. Creative? Add more color and pizzazz. Have fun with it!

Read more expert advice on changing your look on our web site.
Posted: 10/29/09