From Shattered Dreams to Changing Lives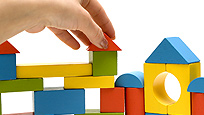 It only takes a moment for your life to take a path you hadn't planned on taking. For Mara Kaplan, that moment was when her son was born with a profound disability. "I could choose to stay in my world of grief," Mara recounts, "or I could move on with my life and maybe make the world a little better for other families that are sharing my journey."

Mara chose to move on. She worked to make the world of play more open and welcoming for all children by co-founding the Center for Creative Play, an indoor playspace for children with and without disabilities.

A few years later, when the center lost its lease and consultants told her it was the end of an era, Mara found a way to reopen it. "Never give up," she reminds us. "There is always a way around an obstacle. Be creative and always trust your intuition."

Read more about Mara Kaplan and other individuals who have followed their passions to make a difference.
Posted: 10/28/09